Why Us?
An odd heading for sure.
But a valid question to ask. In these crazy times with COVID and the "great reset" we have expressed many times our desire to find people that will clean the way we always have. It has been a challenge to say the least.
Many employees across all industries have left to do something else, or to go out and start their own business. This is true of housecleaners as well. We are quite sure most of you have had flyers on your door, or even some person knocking that wants to clean your house, typically for a very low price.
So, why stay with a premium service like Denver Concierge? We have lots of reasons and wanted to share a few of them here.
The primary driver of our business is quality. We expect your home to be spotless when we complete it. Each member of our team is specifically trained and evaluated on how clean your home is. Individual cleaners, while they might be detailed, don't have a senior person inspecting their work each and every time. Our people are evaluated each month and ranked, and we use that data to continuously improve what we do.
Secondarily, we want you to have no liability when we are in your home. We carry a huge general liability policy, a service industry bond, and full Worker's Compensation insurance as required by the state of Colorado. This means if someone has an accident in your home, you have no liability, and our insurer would step in immediately.
This is not the case with independent workers. Most of them carry no insurance, so when something accidentally gets broken (see Queen Bee this month) it may not be very easy to get things resolved.
In the case of injury, the homeowner could be on the hook for a big claim if an injured worker was uninsured in their home.
We have also heard of theft cases, where things disappear and shortly thereafter, the thieves disappear as well, back to their home countries. No insurance makes this a bad deal for the homeowner, with no recourse.
We are also 100% green, the first certified cleaning company, all the way back to 2006. That is a whole different discussion, but with us, it's built-in.
What's the old saying? "The bitterness of poor quality remains long after the sweetness of low price is forgotten." We thank Benjamin Franklin for that one.
We believe Denver Concierge has been in business for nearly 25 years because we do things the right way, and just as importantly we stand behind every single clean. When things go wrong, and Murphy says they inevitably will, we will always be the company to make things right again.
A couple of years ago, we published a letter on our website about what makes us truly different from anyone else out there. It encapsulates what we do and how we do it differently. We encourage you to take a look, as all of those principles still apply today.
That letter can be found here.
Thank you for your support, kindness and loyalty to our locally owned small business. As always, if we can do something better, please let us know.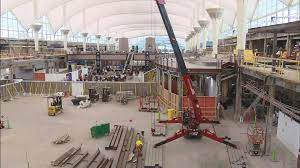 DIA Project Update
Last time we flew, we thought "OK, DIA is coming together, when this is done it will be awesome."
In fact, phase one of three is officially complete as of October 2021. What about the next two phases?
See you in six years.
We have updated this project a few times over the years, including the collapse of the project with the prior vendor in 2019.
On January 10, the Denver City Council approved of $1.1 billion to complete the project, which will bring the total cost of the DIA project to just north of $2 billion.
Airport leadership says Phase 3 will be done in 2028. That will mean the Great Hall project will have lasted 10 years.
From the Denver Business Journal article: "Phase 1 was a critical first step to create capacity for Level 6, where 74% to 75% of traffic is," said Michael Sheehan, senior vice president at DIA. He points to Level 6 as a model of what the entire Jeppesen Terminal — the main terminal at the airport containing baggage claim, ticketing and security — will look like once the Great Hall project is complete.
Phase 1 added new state-of-the-art ticketing counters and expanded United's ticketing capacity to 44 positions. The United area now has a quick bag drop, where customers who have checked in online and have indicated they have a bag to check can walk up to a kiosk, scan their boarding pass, tag their own bag and be on their way."
DIA airport traffic is expected to hit 100 million travelers by 2035, so the improvements are much needed.
The full piece from DBJ can be found here.
The airport authority also has its own updated project page (no paywall), and it can be found here.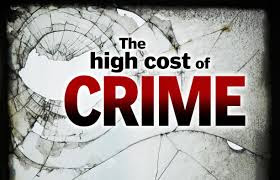 What Does Crime Cost?
If someone steals $50, the cost is $50, right?
Well, not exactly. Leave it to MoneyGeek to come up with what crime actually costs us on a per capita basis.
The methodology?
"The direct economic costs of crime to individuals and society include medical and mental health care needs of victims, damage to and loss of property and police and corrections costs. Aside from the imminent danger of crime, people living in higher crime areas see depressed home values and pay higher prices for crucial needs, including home, renters and auto insurance.
To assess the safest cities, MoneyGeek analyzed crime data, including violent crimes such as murder, rape and aggravated assault and property crimes such as home burglary and motor vehicle theft. MoneyGeek calculated each city's cost of crime and ranked the cities based on the cost of crime per capita. Additionally, researchers have quantified how much more violent crimes cost a community than property crimes."
Some interesting data in this study for sure. The safest/cheapest city for crime? Naperville, IL, where it costs each resident $187 on average each year. Virginia Beach, VA is the safest/cheapest large city with an annual cost of just over $600.
The worst? Brace yourselves, it's St. Louis, MO, with an average per capita cost of $11,574. Yikes, that's a big bill.
What do some Colorado cities look like? Centennial tops the list here with a per capita cost of $351 annually. Arvada is next at $997 and Thornton at $1079 annually.
The most expensive place based on cost of crime? Pueblo at just over $3k a year. Denver comes in at $2600 and Aurora at about $2300.
The full article on the true cost of crime can be found here on MoneyGeek.
The original piece courtesy of Fox Denver can be found here.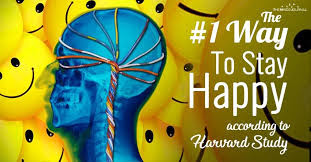 The Secret to Happiness
It s0unds so simple. There must be a secret, right?
If you are anything like us, it comes and goes. We do know that it starts within and that external stuff tends to bring only limited happiness. So, what is it, at least for most of us?
Well, we aren't really sure, but the folks at Harvard are. They have been running an 80-year study on human happiness.
80 years! It caught our eye for sure. From the article on Medium.com:
"For over 80 years, Harvard's Grant and Glueck study has tracked the well-being of two demographics: 268 graduates from the batches of 1939–1944 and 456 poor men growing up in Boston since 1939.
Since pre-World War II, they've painstakingly scrutinized blood samples, performed brain scans, collated surveys, and actually interacted with these men.
In fact, the sheer length of the study demanded the dedication of multiple generations of researchers.
And the windy and diverse +75-year life-paths of those 700 odd men led to a shockingly common and solid conclusion."
It isn't money, fame or any of the other stuff we seem to endlessly chase.
It's relationships.
To quote psychiatrist Robert Waldinger, director of the Harvard Study of Adult Development:
"The clearest message that we get from this 80-year study is this: Good relationships keep us happier and healthier. Period."
We could write a long piece on this but figured we would let you take it from here. The original article from Medium can be found here.
The Harvard Gazette did a recap of the study a few years ago and it can be found here. 
Here's to being happier (and closer).
Ah yes, the old U-Haul index. Wait, what?
Another thing that caught our eye that we wanted to share.
It seems U-Haul has what they call the "U-Haul Index".
This simply measures growth states by calculating the net gain of one-way U-Haul trucks entering a state versus leaving that state in a calendar year.
Migration trends data is compiled from well over 2 million one-way U-Haul truck customer transactions that occur annually.
It certainly gives another data point on where people are moving around in the U.S. today.
Some of the takeaways? Well for starters, Texas edged Florida for the largest net gain of one-way U-Haul trucks in 2021; California and Illinois saw the greatest net losses.
Tennessee ranks third, South Carolina fourth and Arizona fifth among the top growth states.
From the article: "Indiana, Colorado, Maine, Idaho and New Mexico round out the top 10 growth states of 2021 as self-movers target the Southeast, Southwest and Rocky Mountain regions as their destinations of choice.
Select Northeast markets showed year-over-year migration recoveries as Maine rose 21 spots, Vermont 14 spots and Connecticut 25 spots in the U-Haul Growth Index. Yet three of the six states with the largest net losses were also in the Northeast: New York (45), Massachusetts (47) and Pennsylvania (48).
California remained the top state for out-migration, but its net loss of U-Haul trucks wasn't as severe as in 2020. That can be partially attributed to the fact that U-Haul simply ran out of inventory to meet customer demand for outbound equipment."
Interesting way to look at migration in the U.S. for sure. I think it's safe to say we know people are moving here.
Monthly & Annual Award Winners
Our monthly award winners for December were Patricia Rodriguez, Sandra Vidales, Maria Zapata, Maria Reyes, and Guadalupe Caloca.
In the Team Leader ranks, it was Mayra Soto and Socorro Ibarra.
Of course, it is the time of year when we announce our top associates in both the Cleaning Associate and Team Leader ranks.
Our winner for top Cleaning Associates in 2021:
1st Place – Aurora Dominguez
2nd Place – Maria Zapata
Our top Team Leaders:
1st Place – Isela Mendoza
2nd Place – Juana Olivas 
Please join me in congratulating our top performers for 2021.
We are so proud of our winners, and of all the folks that are in and out of your homes each week.
We continue to be grateful to you for allowing us into your lives during these challenging times.
Queen Bee Corner

by Angela
Just a quick word on breakages/damages that unfortunately can occur while cleaning.
Working efficiently but carefully is the team's attitude while cleaning.  It's a delicate balance and at times yes, we have accidentally broken things.
Our Team Leaders are quick to report a breakage to me with a photo. If the client is home, apologies are made.  Then I follow up with a text or phone call.
The ladies always feel very badly if they break something, and we appreciate our clients treating our ladies so graciously in these situations. Even more so if I learn later from the client that the breakage involved a work of art, an object of sentimental value, or a family heirloom.
On the other hand, I think it's important for me as manager to let the team know the extent of any damage, whether grave or trivial.  It heightens awareness of their surroundings and serves as a reminder that a lighter touch is always preferable.
We try to turn any negative into a learning tool. It is more effective than harsh reprimands.
We thank you again for your appreciation of our work.
Bee