Another 20 Year Employee
How lucky are we?
Over the past couple of years, we have celebrated 20-year anniversaries for two of our wonderful staff, Angela and Maria.
This month, we celebrate our 3rd 20-year employee, our Office Manager, Blanca Garcia. Blanca started out with us cleaning houses and was quickly elevated to Team Leader. If there is a "jack of all trades" in our office, it is her for sure.
That's her on the left, next to our leader and General Manager, Maria Herrera.
She is Maria's backup on payroll and office matters, she makes sure our ladies get to your houses on time and follow the work orders. She is our backup driver as well, helping us manage our fleet of vehicles and get them to the right place as needed.
Not to mention she knows a lot about how to clean a home and assists Maria in making sure our quality is always top-notch.
In her spare time, Blanca loves to cook and has a wonderful family that appreciates her almost as much as we do. 
Please join me in congratulating Blanca on her 20 years with the company. We love you Blanca!
Denver Car Thefts
Cars are a hot commodity these days. If you have tried to buy one lately, you won't be haggling and you will probably have to wait 3 months to get it.
Unless you steal one.
That seems to be the prevailing problem in Denver, with nearly 40,000 vehicles stolen in 2021 alone, an average of over 100 per day.
According to the latest statistics from the Colorado Auto Theft Prevention Authority, there has been an 88% percent increase in motor vehicle thefts since 2017.
So which cars are being targeted? The most stolen vehicle in 2021? The Chevrolet Silverado. This vehicle was involved in 1500 thefts in '21, beating out the Kia Optima by nearly 600 thefts.
The full list of most-stolen makes and models can be found here.
The Colorado Auto Theft Prevention Authority has a great site on this topic with tips for prevention, etc.
Finally, much like the password article in this month's newsletter, a lot of problems can be solved upfront.
The typical stolen vehicle has the keys in it or is running. Makes it pretty easy for the thieves.
Finally, if you do have your car stolen, there are groups out there using technology to help you find it.
More information on "ethical hacking" can be found here, meanwhile, let's hope you never have to use it.
There is also a Facebook page for stolen cars in Colorado.
Lock your cars, Denver!
Password Security 
What do you think the most common password is?
If you guessed "password", you were close, it came in fourth.
The most common password?
123456
We have no words for this, but if you want to be entertained, here is the list of the most common passwords leaked on the Dark Web.
Moving on, and from Lookout, which makes cloud security apps for mobile devices, noted in a December blog post that, on average, 80% of consumers have had their emails leaked onto the dark web. You could easily be among that majority without even knowing it.
Much like leaving your keys in the running car, having a simple password opens you up to all sorts of security issues.
On to the next question….how many of you use your browser's "autofill" function for passwords to the various websites you visit?
We do, and boy were we surprised at what a bad idea it is.  It seems this common practice exposes all your passwords, and in many cases could include credit card information.
So what is the bottom line? Identity theft costs consumers $56 billion in 2021 alone.
The moral of the story is as follows:
1. Use complex passwords
2. Change them often
3. Enable 2-factor authentication
4. Don't use autofill in your browser
Simple stuff, but we all get too busy and don't do it until sometimes it's too late.
For those of you looking for a great password manager, we love Keeper. They have a family plan and everything is 100% encrypted.
A full list of the best password managers can be found here.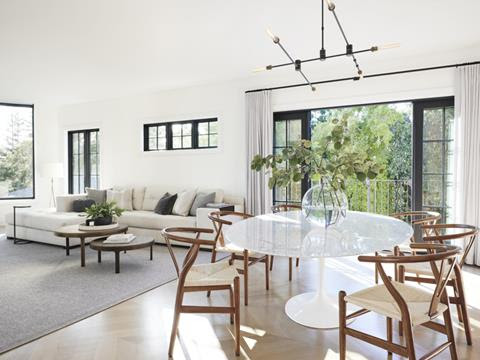 2022 Interior Design Trends
Things change quickly in the world of interior design.
So, when we need a refresher we reach out to our friend Marina Dagenais at Designer Premier.
They were recently quoted in a Redfin article on 2022 design trends, so congratulations are in order.
Our interior design skills can always use an update, and we found some things that were super interesting.
For example, who knew what Scandifornian was? Well, it's just what it sounds like, it blends California modern with Scandinavian. Here we come Ikea!!
We also learned about biophilic design which is a concept used within the building industry to increase occupant connectivity to the natural environment using direct nature, indirect nature, and space and place conditions.
Fascinating stuff for sure.
The complete Redfin article on "13 Trending Interior Design Styles You'll See in 2022" can be found here.
As always, if you need a pro, reach out to Marina for first-rate service.
Monthly Award Winners
Our monthly award winners for February were Maria Zapata, Gabriela Barrancas, Josefina Quinonez, Aurora Dominguez, and Ivette Amaro.
In the Team Leader ranks, it was Natalia Olivas and Paz Jimenez.
We are so proud of our winners, and of all the folks that are in and out of your homes each week.
We continue to be grateful to you for allowing us into your lives during these challenging times.
Please join me in congratulating our best performers for the month of February.
Queen Bee Corner

by Angela
Congratulations to my co-worker Blanca on her 20-year anniversary with Denver Concierge. Bravo!
The three women who together run the offices of Denver Concierge have now all been with the company for over 20 years.
Our General Manager Maria completed her 20 years two years ago, and I completed mine last year. That means 63 years of combined experience at your service!
In spite of, or possibly because of, the diverse skills and backgrounds each of us brought to the job, we formed a strong bond that became the engine that has driven Denver Concierge for the past 20 plus years.
Our all-for-one and one-for-all attitude has allowed us to weather the challenges that have come our way through the years, and still maintain a unified front for our employees and our clients.
I'm so proud.  Well done, us!
Bee