Partners & Causes We Love
Have you ever heard of TAPS? It stands for Tragedy Assistance Program for Survivors. They provide assistance to families of service members killed in action. 
One of our favorite people in Denver, Realtor Edie Marks, is highly involved with TAPS and made us aware of a very cool benefit event that is taking place to commemorate the 20th anniversary of 9/11.
The event, known as the Colorado Celebrity Classic, will feature four excellent Nashville artists and the event proceeds will directly benefit TAPS.
Details of that September event can be found here.
Our friend Edie is also one of the best realtors around, representing Kentwood in and around Denver. Their website says she is #27 in the United States, which is very impressive. We can only imagine where that ranks her in Denver. Suffice it to say, she knows her stuff.
One of the other things we love about Edie is her passion for wonderful causes such as TAPS. She has also been heavily involved with the Cancer League of Colorado, another great cause that she is very passionate about.
So, if you need a world-class realtor, we highly recommend Edie. Beyond that, if you want to learn more about her causes, you may click on the links above, or you can contact Edie directly here.
We thank you, our clients, for your ongoing support. We love to give back to causes such as these and without you, we wouldn't be able to. Thank you!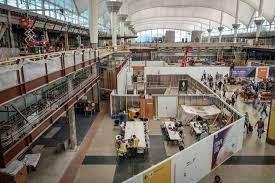 DIA Great Hall Update
Now that travel seems to be back in style, we figured it might be time to look at our beloved airport to see when all the construction might be done.
If you have been to DIA lately it seems patently obvious to us that this will take a while.
We have discussed this debacle in past newsletters. This project has been plagued by issues from the start, including a snafu with the original vendor.
Back in 2017, DIA started a $1.8B project (yes billions) to renovate the Great Hall. The agreement with the original contractor fell apart and Greeley-based Hansel Phelps picked it up and started work again in March of 2020.
From the article:
"The project is meant to increase passenger capacity, improve the experience of people passing through the airport, and reduce security vulnerabilities, outgoing DIA CEO Kim Day previously told Denver City Council members. It's also creating more ticketing and baggage drop-off space to accommodate the airport's two biggest carriers, United Airlines and Southwest."
We wish we had good news, like the project will be done soon. It won't.
It appears this project will take at least two more years to complete, and a potential phase three is being contemplated, so this could drag on for a bit.
How will this impact us as travelers? In August, the airport will close four of the 12 security lanes at the north end of Level 5 to allow work to proceed on the new checkpoint at the northwest corner of Level 6.
As they say, forewarned is forearmed, so we can at least plan for some disruption going forward.
For the complete piece by the Denver Business Journal, visit them here.
Selling Your Home?
Guest Writer Suzie Wilson at happierhome.net
Looking to Sell Your Home Quickly? Start With These Projects 
If you need to sell your home quickly, you'll need to make sure your home is looking its best. You can get your home in top shape and encourage more offers by focusing on some key home improvement projects. Wondering where you should begin? Start your upgrades with these basic home tips.
Give Everything a Deep Cleaning  
The most important project you can complete before you list your home is a good, deep cleaning. Buyers love to walk into a home that looks, feels and smells fresh and clean, so take a day or two to go through and tidy up your home. Put away any clutter or get rid of it, even in storage areas. Then, clean everything from top to bottom, including ceiling fans, vents, curtains, countertops, and of course…the floors and carpets.
If you're working with faulty equipment, this difficult task will be that much harder. Do a quick assessment of your cleaning appliances before starting. If you need to upgrade your vacuum, be prepared for a dizzying array of options. Do your research to figure out what vacuum best suits your needs.
Need your home professionally cleaned before selling? The premier house cleaning service in the area, Denver Concierge has the expertise to deliver exceptional results. For a quote, reach out to us today!
Freshen Up the Front   
When potential buyers take a look at your home, they pay attention to the exterior first, so you should pay attention to your curb appeal. Tidy up your yard and make sure your lawn is neat. Then, look at the exterior to see if you need to make improvements there as well. If you have siding, brick, or stone in need of repair or an update, take care of those upgrades before you begin showing your home. Now is also a good time to address more hidden elements around your home like having your gutters and downspouts cleaned. This could even make a difference in your inspection. Use an online search like "gutter cleaning services near me" to connect with seasoned professionals who can remove debris and even alert you to necessary repairs. 
Update Your Kitchen  
Kitchens are king when it comes to showing a home. Buyers look for well-maintained, updated kitchens. If you're only going to renovate a few things around your home, put your kitchen at the top of that list. A major overhaul will cost the most, but even smaller upgrades can make a difference. You can switch out fixtures or invest in some new appliances. Need to update kitchen cabinets? Try painting them a different color, adding some new hardware, or even replacing wood panels with glass for a more boutique feel. 
Freshen Up Your Bathroom 
Another room that buyers always pay extra attention to is your bathroom(s), so add it to your list of home renovations if it's in need of repairs or updates. If you have multiple bathrooms in your home, seriously upgrading one may be enough to boost your home sale, but bathroom improvements can be inexpensive and easier than you think. You can change out faucets for different colors or materials, or change up your mirror. Even switching out lighting fixtures can make your bathrooms seem brand new. Play up special features, like a deep soaking tub or large windows, with some effortless bathroom staging.
Replace the Roof    
If your roof is getting old, replacing it may be a good move before you try to sell your home. Depending on the material and composition of your roof, it should be replaced every 15-20 years. A new roof can also make your home appear cleaner and more appealing from the outside. This is also a home project that adds value to your home. If your roof is fairly new, still make time to check it over for issues that may need repair. Clear off any leaves or junk that has accumulated there over time. Patch up any holes and replace any damaged or missing shingles. Ensuring your roof is in good shape can help sell your home more quickly.
Making improvements around your home and property is the best way to help your home sell quickly. By focusing on the areas buyers care about the most, you can be sure to attract more attention and get an offer on your home much sooner. Before you know it, you'll be closing on your home and enjoying the profits of all of your hard work!
Our Dangerous City
In the first six months of 2021, a person was shot in Denver every 36 hours.
Yes, you read that correctly. In fact, violence in Denver is set to surpass 2020, which was the worst year on record since 1981. It seems the easing of the pandemic restrictions is not our only issue.
The Denver Post did an informative article on this and covered many key statistics.
From the article:
"In the first six months of this year, 43 people were killed in Denver homicides — a few more than the 39 people killed in Denver in the same period last year.
Denver police Chief Paul Pazen said in January that he didn't want the 95 homicides recorded in 2020 — a 51% increase from the prior year — to become the norm. But the violence hasn't abated.
"We're trending even above where we were last year, and last year we had too many people who lost their lives in our city," Pazen said in a June interview."
"The city looks great from the outside with all the development, but it has internal bleeding," said Gerardo Lopez, executive director of violence prevention organization Homies Unidos. "We didn't develop youth programs and mental health programs at the same pace."
We find this very concerning as our once safe city seems to be getting a little edgier. Certainly, as we grow we will have more "big city" problems, but we all want to feel safe when we go out downtown.
The complete piece from the Denver Post can be found here.
Most of us probably think we are. We aren't sure about you, but we have been "overtipping" our service providers just because we are glad they are still there through all of this.
We saw a catchy headline about tipping and which generation is worst at it. We had to share.
The answer and from the article:
"The younger generation was found to be the worst culprit, specifically millennials, ages 25-40, and Gen Zers, ages 18-24, who were both found to be the worst tippers."
"The study also found that there is a strong correlation between income and how much people tip. Almost 85% of higher-income households with an annual household income of over $80k, who go to sit-down restaurants, were found to always tip. On the other hand, only 77% of middle-income households, with an annual income between $40-80k, were found to tip, and only 65% of lower-income households, who make less than $40k annually, leave a tip."
TD Ameritrade did a survey and found that 59 percent of baby boomers (born between 1946 and 1964) are likely to tip 19 to 25 percent. Meanwhile, only a third of millennials – ages 23 to 39 – and Gen X (born between 1965 and 1980) do the same.
We loved the data in the TD "etiquette survey" report, so we are providing it here for your reading pleasure.
We hope you join us in making sure our restaurant staff and servers are still there when this is finally over.
Interesting data for sure! The full piece by Fox News can be found here.
Monthly Award Winners
Our monthly award winners for June were Maria Zapata, Fidelia Bautista, Sandra Vidales, Aurora Dominguez and Josefina Quinonez.
In the Team Leader ranks, it was Isela Mendoza and Simona Estrada.
We are so proud of our winners, and of all the folks that are in and out of your homes each week.
We continue to be grateful to you for allowing us into your lives during these challenging times.
Please join me in congratulating our best performers for the month of June.
Queen Bee Corner

by Angela
This month as we welcome new clients into the Denver Concierge fold we realized that each one had come to us through recommendations from current clients.
This is a huge compliment for our teams and a huge compliment to the way we do business as a company. Even more so when taking into account that several of the new clients actually preferred to wait for an opening with us rather than go to another service.
As an aside, we are very careful in our hiring and sometimes there is a short wait to get on our schedule. We don't hire to fill an urgent need.
Over the years we have tried to create a niche in the market that has served us well.  We treat our clients like family and are always upfront and candid in our dealings. Most importantly, we listen.
We are always just a text away.  This approach has brought us some truly great clients.
Thank you to those who recommended us.  It was a kind gesture and much appreciated.
Bee